Welcome to our Store!
Welcome to our webstore! Here you may view promotional offers if they are available, purchase donator points, or buy baller tickets which can help your character grow to it's full potential! After your purchase, simply type ::donated to claim your donation. (Note: Iron man donations WILL NOT WORK. DO NOT DONATE ON YOUR IRON MAN ACCOUNT)
Divine Donator Promotional Deal
Show Promotion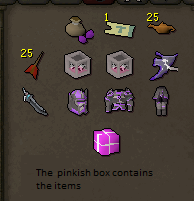 This donation package costs 50 USD. It comes with everything seen in the picture & the ability to access player-owned baller shops!